Have you ever wondered what it is like to sail? How it feels to float and sway amongst the waves in your sailboat? What an amazing feeling it must be to travel thanks only to the wind, sails, and your own skill? Join us to experience all of this while learning and exploring the beautiful waters of Desolation Sound.
Basic Cruising Skipper or Crew
Basic Cruising Skipper or Crew
duration &
start/end point
5-days & 4-nights (live-aboard). Cortes Island, + *Quadra Island or Lund if private live-aboard group.
Course on Beneteau Oceanis 400. All meals in live-aboard format. Sail Canada exam, textbook & certificate. Pleasure Craft Operator Card (PCOC) training.
$1800 CAD/person (double occupancy) for the aft-cabin. $1950 CAD/person (double occupancy) for forward-cabin with private washroom. Max. 4 participants.
$900 CAD/person. Max. 4 participants. Stay on beautiful Cortes Island and save. Includes 5-days on the sailboat as our classroom.
This Standard is recommended for those who want to be certified to cruise safely as skipper or crew on a sailboat in moderate wind and sea conditions by day in tidal waters.
This is one of the entry level Standards in the series of Sail Canada Standards which allows a candidate, even without any previous experience, to attain the Basic Crew or Basic Cruising Skipper certification. Certification of Skipper will allow the successful candidate to take command of and operate, with assistance of competent crew, an auxiliary powered sailing vessel. Certification of Crew will give the ability to assist in operation of a sailing vessel as competent crew. A Pleasure Craft Operator Card (PCOC), the required document used in Canada as proof of competency to operate a recreational boat with a motor, can be obtained by a successful candidate upon completion of this course.
The course covers basic seamanship skills under sail and power with a focus on operation of a cruising keelboat as both crew and skipper. The course will cover terminology, simple maneuvering skills under power, basic sailing skills, sail selection, use and positioning of sails, safety equipment and dealing with emergencies, rules for avoiding collisions, marine weather, the buoyage system, basic navigation and interpretation of nautical charts, and the understanding of tides and currents. The emphasis of the course will be on practical experience with as much participation as possible in the handling and living on a 40-foot sailboat.
This five-day course can be taken in a day-sailing or live-aboard format. The live-aboard format allows for the complete experience of cruising on a sailboat and being a full-fledged member of a crew. It includes sleeping at anchor, taking care of the vessel, and enjoying meals together to make you fully feel life at sea. This is a great idea as a vacation in the beautiful Desolation Sound area, which includes all meals and lodging while achieving your sailing certification even for a whole family. The day-sailing option can be done over five consecutive days or broken up over weekends, with 6-hour per day sessions, which will take us to the nearby waters of Cortes, Marina and Mitlenatch Islands, allowing you to learn in the unique natural surroundings of Desolation Sound. For the live-aboard format, see the sample itinerary below, as this course will take us on a further exploration of the Desolation Sound area – the day-sailing format will cover the same topics with Mariah and the waters around Cortes Island serving as our beautiful classroom. Camping on Cortes Island is a very inexpensive option for accomodation and there are many rentals available on the island.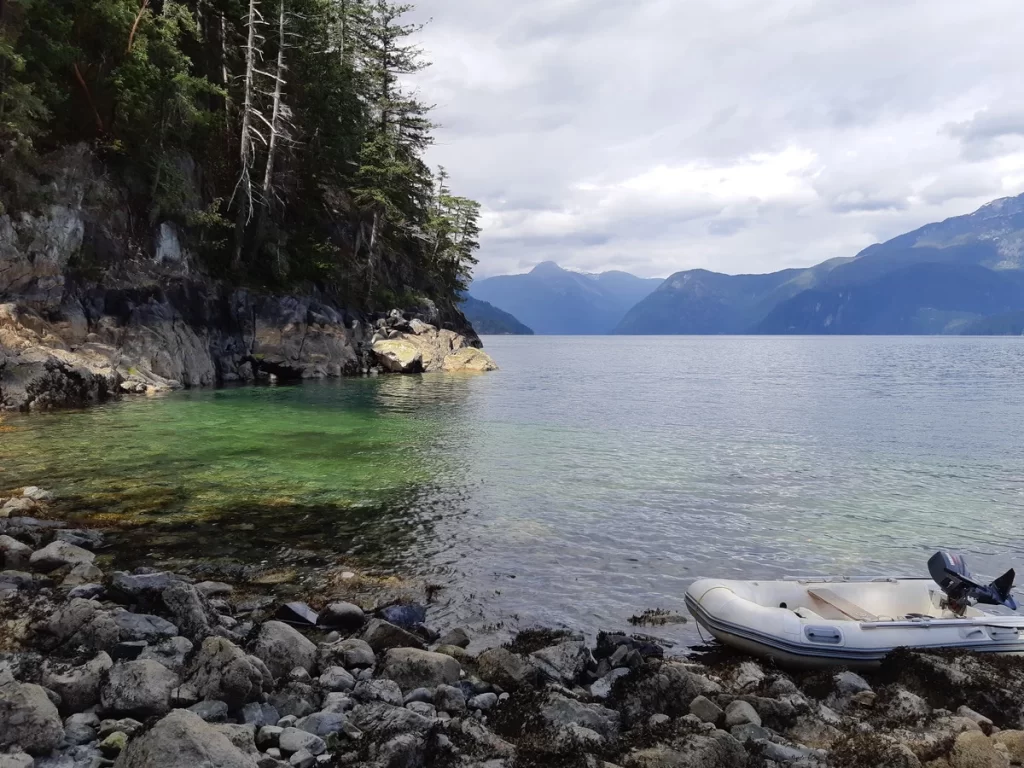 Private cabins, meals & the course
Our sailboat is a comfortable, modern, 40-foot sailing vessel (Beneteau Oceanis 400), with all the required amenities and safety equipment.
In the live-aboard format, there is a choice of a forward double-bed private cabin with a private washroom (head), or a double-bed private aft cabin with a shared head. Rates are shown for double occupancy of a cabin. If double occupancy is paid by a single individual, we offer a 10% discount. The live-aboard price includes high-quality provisioning for all meals, centred on mostly organic and locally sourced vegan, vegetarian, and seafood items.
The Sail Canada Basic Cruising Skills textbook, a Sail Canada Logbook to record your certificates, all course materials, the exam, seal and certification fee are all included. PCOC certification, if required, can be obtained for $25 which covers the processing and card application fees.
*If you book as a private live-aboard group, we can optionally start/end the course at Quadra Island or from Lund for a fee of $150 CAD/person.
See the Sail Canada website links below for more information and a detailed outline of what is included in the training and what is required for certification:
We meet at 9:30 am at the ferry terminal in Whaletown on Cortes Island and drive you to our sailboat. We start with a familiarization of the boat and its living quarters, a safety briefing, and start learning sailing terminology in practice while examining our sailboat. After checking the weather, going over the plan of our trip with some navigation basics, we discuss how to work together as crew and setoff, sailing around 25 nautical miles to our evening's destination, the picturesque bay of Prideaux Haven.
As we travel, everyone takes turns at the helm, getting a feel for the boat, while learning the rules-of-the-road, basics of sailing and navigation, and finally anchoring.
After dinner, you will be able to relax, swim or explore the pristine natural shoreline by zodiac inflatable. Relaxing on deck, in your private cabin, or outside in the hammock, while the boat is gently rocking is a fantastic feeling and provides the best night's sleep, which indeed will be well earned after such an exciting day.
The next day, after breakfast, a good coffee and a weather assessment, we sail up north through scenic Homfray Channel.
While enjoying the picturesque views of the snow-capped Coast Mountain range we learn the finer points of sail selection and sail trim and practice our sailing maneuvers as a team. Although the winds are always different, we will try to sail as much as possible, mixing our time to also work on our navigation skills using modern electronics and classic methods.
Between June and September, we spend the evening and night in Toba Wilderness Marina, a very special small size marina accessible only by water, nestled at the foot of steep mountains in a picturesque bay at the mouth of Toba Inlet with spectacular mountain views in every direction. Here you will also be able to explore pristine forest trails and stretch your legs doing a short hike up to a cascading waterfall.
In April and May, we will instead anchor nearby in pristine Walsh Cove marine park on the east side of West Redonda Island. In the evening we will hop into our zodiac-inflatable to pick our own mussels for the evening's well-deserved dinner and to admire First Nations petroglyphs on the towering granite cliffs surrounding our anchorage.
On this day we spend a bit of time on theory, covering navigation, sailing theory, tides and currents, weather forecasting, and how to handle different types of emergencies.
We then put all of this into practice as we sail south to Von Donop (Háthayim) Inlet, a long, narrow sheltered anchorage on the northwestern tip of Cortes Island. On the way we also do more sailing maneuvers, and practice crew-overboard drills.
At our peaceful destination we enjoy a great dinner, possibly composed from our own harvested oysters or mussels, and we relish the evening with sights of wildlife, by exploring the inlet by dinghy, swimming in the warm waters, or just relaxing.
On day four, we head south through Sutil Channel. This day, starting with checking the weather and weighing the anchor and onwards, we put everything you learned into practice with the focus on experiencing everything hands-on, experimenting, learning from mistakes, and therefore becoming more independent allowing you to gain confidence in taking control of the vessel on the way to becoming a self-reliant skipper.
The route we take is also a great place to search for and see humpback whales, orcas, and dolphins known to frequent theses nutrient rich waters as they gather to feed annually. We make a stop for lunch on the beautiful white-shell lined beach of Marina Island and in the evening anchor in picturesque Mansons Landing bay. The afternoon is spent going over the material and preparing together for our assessment the next day.
On our final day we practice docking maneuvers and go out for a final sail, planned by the students, spending time going over any theory or practical aspects we feel need strengthening.
In the afternoon we complete the written assessment and together mark and discuss the results.
We celebrate our success over a final dinner together and conclude our trip in the evening at 5 pm at the arranged destination by our newly recognized Skippers and Crew.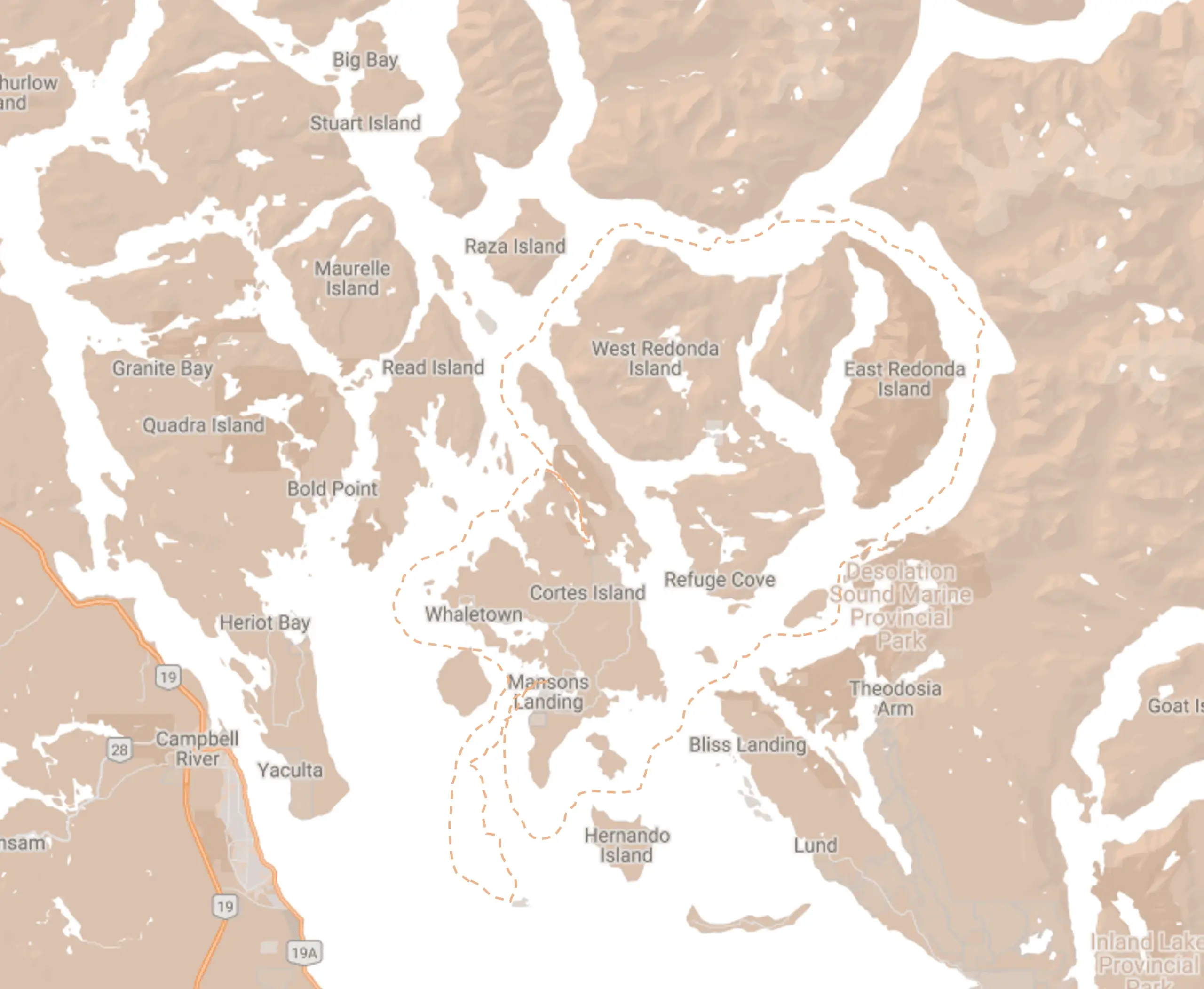 Click to read the details.
Sailing, it is the ultimate expression of freedom. Join us and begin your sailing adventure.
Did not find what you were looking for?
We would be happy to discuss other options.