You will immerse yourself into an experience like never before, calming the mind while heightening the senses, disengaging from the busy man-made world to instead feel the natural one. These trips will leave an enduring impression of awe and respect for our natural world and a feeling of gratitude for the experience.
duration &
start/end point
3-days & 2-nights. From Cortes Island, + *Quadra Island or Lund if private group.
Sailing excursion with instructions on a Beneteau Oceanis 400. All high-quality meals with desserts, full bedding & towels. More time to relax vs. a course.
$1050 CAD/person (double occupancy) for the aft-cabin.
$1200 CAD/person (double occupancy) for forward-cabin with private washroom.
$4300 CAD/max. 4 guests. Private cabin with private washroom & private cabin with shared washroom.
Add the SKS course for $70/person.
Choose between an exclusive private trip, where you will have the sailboat all to yourself, or share the adventure with others. You will be able to experience sailing and how it truly is to live on the sea as we sail in Desolation Sound over three days with two overnight stops in famous anchorages such as Prideaux Haven and on Cortes Island.
This skippered instructional charter is designed especially for couples and families. You will be provided with customized instructions on basic sailing techniques as desired and tailored to the guest, with hands-on experience participating in the handling and sailing of our 40-foot sailboat, Mariah. There will be ample time to immerse yourself in the beauty of the ocean, to enjoy the unique natural surroundings, and to relax your senses with the calming movements of the boat and sounds of the sea.
Throughout the trip, while relaxing, learning, and exploring our anchorage and shoreline by zodiac, you will be amazed by breathtaking views, where mountains appear to rise right out of the ocean and small islands delight with their unique landscape. The sight of ocean wildlife, magical phosphorescence in the water seen at night, and spectacular sunsets, will create unforgettable memories and leave a feeling of gratitude for the experience.
Private cabins, meals & amenities
Our sailboat is a comfortable, modern, 40-foot sailing vessel (Beneteau Oceanis 400), with all the required amenities and safety equipment. You have a choice of a forward double-bed private cabin which includes a private washroom (head), or a double-bed private aft cabin with a shared head. Rates are shown for double occupancy of a cabin. If double occupancy is paid by a single individual, we offer a 10% discount. The price includes all meals, prepared with care from mostly organic and local, high-quality products, centred on a vegan, vegetarian, and seafood cuisine, which will also be a highlight of the trip.
*If you book as a private trip, we can optionally start/end the tour at Quadra Island or from Lund for a fee of $150 CAD/person.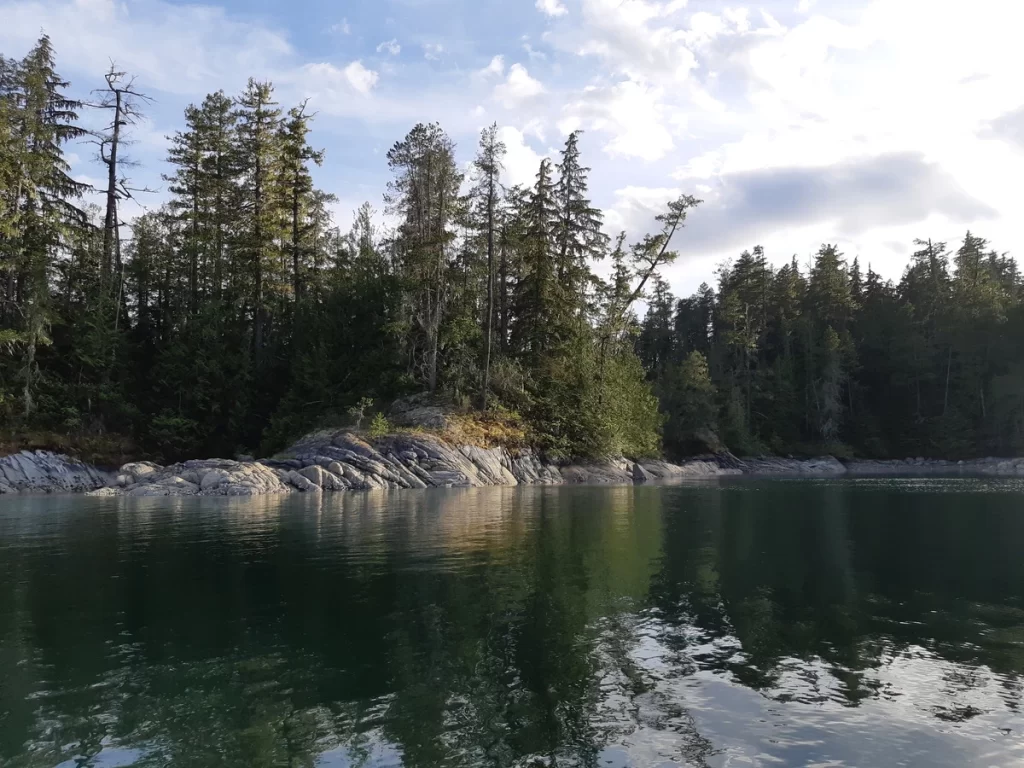 Our trip will last from 10 am on the first day, till 5 pm on the last day. As selected by our guests, a private trip can start and end from either Cortes Island, Quadra Island, or from Lund.
On the first day we will sail around 25 nautical miles before anchoring at our destination for the evening in the picturesque bay of Prideaux Haven in Desolation Sound marine park. Although the winds are always different, we will sail as much as possible for beauty and sustainability with everyone having a chance at the helm and experiencing in practice the principles of sailing. At anchor, after dinner, you will be able to relax, swim or explore the pristine natural shoreline in a zodiac inflatable at your disposal. Relaxing on deck, in your private cabin, or outside in the hammock, while the boat is gently rocking is a fantastic feeling and for sleeping provides the best night's sleep.
The next day, after breakfast, and a quick dip in the ocean if desired or a walk on shore, we will sail towards Cortes Island with a stop for lunch in a bay such as Refuge Cove where we can also meet local artisans, see an art gallery, and have a break for a pint or espresso. We then sail into open waters and look for humpback whales, orcas, and Pacific white-sided dolphins known to frequent these nutrient rich waters as they gather here to feed annually. In the evening we will anchor in Mansons Bay marine park known for the most beautiful sunsets.
On the third day we can enjoy what Cortes Island has to offer, including freshwater swimming in Hague Lake with its natural white-sand beach, or marine wildlife viewing in Mansons Lagoon and relaxing on the white-shell beach just next to our anchored sailboat. If the winds are right, we might opt instead to do some sailing in the open waters of the Salish Sea towards Mitlenatch Island with lunch on the way. We conclude our trip at 5 pm at the destination selected by our guests.
Click to read the details.
Join us and begin your sailing adventure
Did not find what you were looking for?
We would be happy to discuss other options.